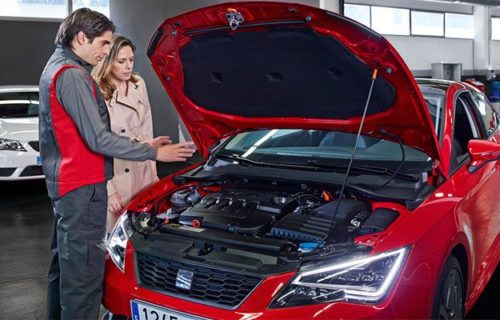 Experienced Volkswagen Mechanics You Can Trust!
For piece of mind dealer level servicing for your Volkswagen, look no further.
Our experienced team of dealer trained master technicians are here to look after all your vehicle needs.
With state of the art Volkswagen main dealer software ODIS, you can rest assured that your vehicle is not only serviced to the main dealer standard, with savings of up to 50%, But because we use genuine parts, we are able to keep your cars warranty fully up to date.
Also, if there are any issues which require any diagnostics, the faults can be found quickly and cost effectively using genuine equipment, meaning a correct first time fix.
This means no massive repair bills like at the main dealer, and no visits to the local garage replacing bits on assumption because their generic scanner doesn't allow them to go fully in depth into the problem.
Here at Blackridge, we know your Volkswagen inside out, which is why we are fast becoming the go to place when other garages can't solve the issue.
Instead of going to the dealer, Many local garages are now using our our high level service and skills, to help them fix their customers cars and get them back on the road.
Owner Mark, has Quickly built up the reputation as the mechanics mechanic. Tendering work for garages such as Fenlake Autos, Mac Auto's. KSK, Automotive Climate Control,The TT Shop, Manton Lane Garage, Bedford Motor Services, Fir Tree Garage, S & M specialist Cars, S H Cars and many more.
So put your car in expert hands, and book in today!
Call Us! 01234 216499
We Are Bedford's Leading Volkswagen Experts!
Finding a suitable, experienced mechanic for your Volkswagen should be a primary concern. It is important to place your car in the hands of trusted professionals. That way you can help to ensure the very best performance and longevity of your vehicle, whatever its current condition.
Reaching professionals with knowledge of your specific car make can be key to the servicing process. It ensures the very best results for a service and can get extra miles — and years — out of your car as a result.
 We are Volkswagen experts. You can have complete confidence in our brand knowledge and awareness. We have access to the main dealer software of Volkswagen, called ODIS. This advanced piece of digital kit allows us to stay up-to-date with all the latest brand developments.
 It also ensures that your car is servicing to main dealer standards every single time. You can sometimes achieve that 'new car' feeling time and again, simply by using the right tools, equipment and knowledge.
ODIS helps us to achieve this. We have also found that customers can sometimes benefit from savings of up to an amazing 50% without having to return to the main dealer for servicing.
This proves that access to brand-level software and techniques at our premises is the most cost-effective and affordable way to go — which is why we have made it a key part of the service we offer.
Keeping the warranty of your car fully up to date is an obligation, but does not have to be complicated or extortionate. With mechanics and techniques like ours, you can be confident of the best price and value.
Our mechanics are dealer-trained, skilled technicians with the experience to solve your motoring problems. Our reputation for reliability, affordability, and specialist knowledge has made us industry leaders. We are confident you will love our service.
Cars are an important investment and needed to make our lives run smoothly. We know the importance of having a reliable car that you can trust, and we make it our mission to get you back on the road safely.
Owner, Mark, has tendered a wide range of work for well-known local clients in the automotive industry — including Bedford Motor Services, Mac Autos, Automotive Climate Control and more.
That's why we are confident that we can meet your individual needs. Our broad knowledge base and experience is key to the high level of service we offer.
Professionals You Can Trust to Fix Your Bedford Volkswagen
Our access to the right software, our brand knowledge of Volkswagens, and our trained mechanics experts combine to create an experience you can trust. Your car will be in the hands of passionate professionals.
The specialist Volkswagen software that we use — ODIS — helps to ensure that the servicing your car receives is up to date, and also meets the main dealer levels of quality.
You can also be confident that we only use genuine parts at Blackridge Autos, without the larger price tags of a visit to the main dealer.
Our diagnostics equipment and experience is second to none. Through our techniques, we are able to identify faults and potential problems quickly and effectively. This means fewer expensive tests and costly trials that can lead to disappointment — and misdiagnoses.
Through using excellent equipment as well as our own extensive experience, we aim for a correct first time fix every time.
Regular or repeated visits to other dealers can quickly become time-consuming and expensive. Often, customers can find that the diagnostics equipment and generic scanners of other mechanics are simply not powerful or specific enough to identify the problem.
Going fully in depth is key, and a service we offer with confidence. Visiting us and trusting us with your car means fewer repeated visits, smaller bills, and no enormous repair fees like you could expect at the main dealer.
Call Us! 01234 216499
Service You Can Rely On
Here at Blackridge Autos, we provide a range of top-level services to meet your needs. We complete full servicing to an industry-level standard and have specialist knowledge of the Volkswagen brand.
Regularly servicing is vital to the road worthiness and safety of your car. It is not only a legal requirement, it makes the experience of driving smoother and more pleasurable too. Our servicing helps to ensure that you get the very best performance from your car for as long as possible.
We also provide MOT servicing for those all-important MOT deadlines. This can be a stressful time for car owners, but it doesn't need to be. Let us handle the hassle with our quick and easy MOT servicing.
You can also get in touch in advance for a free quote and we are confident you will be impressed by our competitive prices. We also offer a car collection service for extra convenience on busy days.
Our onsite parking and free WIFI in our waiting area also prove consistency popular with customers!
For those seeking the very best performance from their car — no matter the make — our engine remapping service can be the answer to your needs. Not only will better performance make for an easier drive, it is far more cost-effective too.
Whether its servicing, diagnostic fault finding, or upgrade your performance, we have a service to suit you and your car.
How to Get In Touch
Contacting our friendly team at Blackridge Autos couldn't be simpler. We have expert professionals waiting to advise you and take your booking today.
You have a range of contact options available and can choose the one that best suits your needs. You can pop in to our premises in Bedford — simply find the address on our Contact Us page. Alternatively you can email us at mark@blackridgeautomotiveltd.co.uk.
We are also available over the phone on 01234 216499
We are closed on Sundays, with the shortened hours of 0900-1700 on Saturday. From Monday to Friday our opening hours are 0900-1830.
Please don't hesitate to get in touch. Call, email, or visit us today to discuss your needs and leave your car in the trusted hands of professionals!