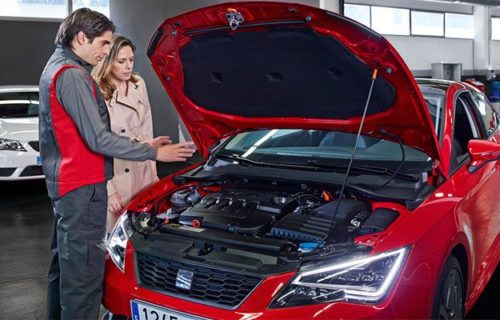 Need A Porsche Specialist In Kempston? You're in the Right Place!
A Porsche is a luxury vehicle and you will want to care for yours correctly. Finding a reputable garage is therefore vitally important.
At Blackridge Autos we make it easy and transparent. You can see at a glance that we are a highly experienced, reputable garage with satisfied customers that return time and again. We would love for you to be one of them.
You can visit our dedicated Facebook page to see what visitors had to say about our services.
You can leave us a comment online or contact us directly, and you can quickly and easily get in touch with one of our friendly team through our online contact form.
Did you know that you can get a free repair quote too? Simply leave your name, contact details, and a description of your problem in the quick and easy contact form, click Send Quote, and we will be back in touch to discuss your needs.
Finding an experienced engineer to service your Porsche doesn't have to be complex or time consuming. Here at Blackridge Autos, we make it as simple and cost-effective as possible. Get in touch today to see how we could help!
Call Us! 01234 216499
Affordable Porsche Specialists In Kempston
Porsche vehicles are synonymous with sleek, luxurious living and great design. It's likely that your Porsche was a significant investment, and regular effective maintenance will help you to achieve the very best performance.
Maintenance and servicing are essential but can quickly become a significant cost. At Blackridge Autos, we keep things efficient and pass the savings on to you through our low prices. We are often significantly more affordable than the main dealer services. In fact, we can be up to 60% cheaper.
We never compromise on quality or customer service, and our fully trained engineers use only genuine parts. This ensures that your car's performance is maintained effectively and your warranty is never compromised. You get all the benefits of the main dealer but for a fraction of the price.
It is our affordable, professional services and experienced engineers with customer service at the forefront that keeps our customers returning.
We understand that you are likely to have made a significant financial investment in your Porsche — or indeed any other vehicle — and so keeping servicing affordable and cost-effective can be key.
If you are unsure of the service you would like or would like to discover how we could help, our experienced and friendly team members would be happy to chat with you. Get in touch via the email or telephone number given below, or through our online contact form on the Contact Us page.
Our Services
We offer a wide range of services and specialisms to suit you. Our trained and professional mechanics have many combined years of experience with a variety of vehicles.
We offer repairs, engine remapping, MOT services, diagnostic fault finding to identify vehicle issues, engine tuning, air conditioning repair, brakes and suspension servicing, and more.
We use all the latest diagnostic equipment, techniques, and software at the forefront of car maintenance — so you can be sure your vehicle is in good hands. If you are unsure of the service that best suits your needs, please don't hesitate to get in touch and we will be delighted to assist you.
We can also run a full diagnostic test initially to assess your needs and provide a quote. We also have a handy online free quote form if you would like to provide these details in advance.
Whether you are seeking diagnostics, a repair, general maintenance, have an MOT coming up, or anything in between, we are confident we have a professional and affordable service to suit you.
Call Us! 01234 216499
The Importance of Car Maintenance
Whatever car you drive, maintenance is crucial. It is a vital part of both performance and safety. A well-maintained car can give years of safe and effective service, whatever its make, age, and model.
However, a poorly maintained car can be slow, inefficient in terms of fuel usage, and even unsafe. This is true even of expensive or newer cars. If they are not kept in excellent condition and regularly serviced, they can age rapidly — depreciating in value, guzzling fuel, and becoming a less pleasurable drive.
With luxury cars such as a Porsche, it is more important than ever to ensure that your car's maintenance is at its best. Regular servicing helps to ensure that the car runs smoothly and remains a safe and enjoyable drive. It can also be an important part of efficiency, cost-effectiveness, and fuel consumption.
Another considerable advantage to regularly servicing your car is to spot and treat small issues before they become major problems. Your car may have a small but significant problem that is not easy to spot, but that professionals like ours can quickly identify and correct.
That's why we offer a wide range of maintenance and repair services to give you peace of mind and keep your car in top-range condition — whatever the make and model.
Getting in Touch
We are always delighted to meet new customers and would be happy to take your call and discuss your needs. You can reach us via email at mark@blackridgeautomotiveltd.co.uk, or else call us on the telephone number 01234 216499 to chat with one of our friendly team.
Alternatively, you can get in touch via our online contact form, or request a free quote. Simply fill out the quick and easy online form of your choice — leaving your name, contact details, and any helpful information about your issues — and we will be back in touch to assist you.
You can also stay in touch with us online via our blog or social media page on Facebook.
Get in touch for professional and affordable Porsche specialists in Kempston today!